Welcome to the University of Louisiana at Monroe!
Dear Warhawk Family and Friends,
The University of Louisiana Monroe has a tradition of excellence dating back to Sept. 28, 1931, when it opened as Ouachita Parish Junior College. In the early days of the Great Depression, men and women with vision knew that only through education would the people of the northeast region of the state advance and prosper.
In 2020, less than 90 years later, ULM has grown far beyond the dreams of its founders. Since 2016, U.S. News & World Report has ranked ULM as a national university, based in part on its Carnegie Classification as a doctoral-granting research university. A study in 2018 stated the total economic impact of ULM exceeds $566 million annually (EMSI, FY 2017-18).
Each semester, ULM awards hundreds of undergraduate, graduate, and doctoral degrees. In December 2019, for the first time, almost half of the summer and fall graduates were in STEM (Science, Technology, Engineering and Mathematics) majors. Graduates of the Kitty DeGree School of Nursing have a consistent 100 percent employment rate with BSN graduates starting at an average salary of $47,000. School of Construction Management graduates' beginning salaries range from $66,000 to $100,000.
ULM's four colleges, Arts, Education, & Sciences, Business and Social Sciences, Health Sciences and Pharmacy, ULM Online, and the Graduate School prepare students for success in high-demand fields. This includes programs such as education, nursing, computer science, and pharmacy, as well as careers that are the foundations of society – the humanities, business administration, counseling, and research.
Whether at the beginning of your university journey, seeking an advanced degree or returning to complete your degree, you will thrive in one of ULM's 90 degree and certificate programs. ULM embraces international students eager to learn in an American university and community college students transferring to a four-year university.
The first-class faculty and staff, along with student support services, are here to guide and encourage you along the way.
Your time at ULM will be full of study, but also full of life. ULM's many student organizations range from volunteer groups to Greeks to academic fraternities. The School of Visual and Performing Arts is NELA's cultural hub for performances and exhibits. Warhawks Athletics is a favorite among students – from tailgating in The Grove before football games in Malone Stadium to men's and women's basketball in Fant-Ewing Coliseum and intramural leagues; there is always a game at ULM.
As the nation, and the world, is recovering from the devastating coronavirus pandemic (COVID-19) demand is as great – if not greater ­– than ever before for an educated and trained workforce. Especially true in health care and related fields, it is also true for Risk Management & Insurance, Unmanned Aerial Systems (drone technology), Political Science, and Toxicology, to name a few.
At ULM, our favorite saying is, "The Best is on the Bayou." I am certain you can be your best at ULM, and I invite you to join us.
#GoWarhawks #TakeFlight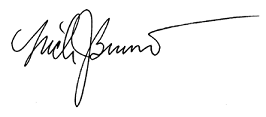 Nick J. Bruno, Ph.D.
President