Welcome to the University of Louisiana at Monroe!

Located on Bayou DeSiard just a stone's throw from the Ouachita River, The University of Louisiana at Monroe is a campus filled with beauty. Founded in 1931, ULM stands for dedication to its students. Our staff is in constant communication with business leaders to anticipate their employment needs in the region so that students are well-equipped and sought after when they graduate.
Exceptional students enjoy a campus that has undergone constant renovations in its laboratories, residence halls and library. These same students demand, and receive, the latest in technological access.
Offering students the only state-supported pharmacy program in Louisiana, ULM offers a Doctor of Pharmacy degree. The talented faculty has seen a high placement of its graduates at graduation or soon after.
ULM offers a Master's in Business Administration that is fully accredited by the Association to Advance Collegiate Schools of Business-International which is a distinction held by less than 10 percent of business schools worldwide. Our online MBA degree is nationally ranked in 2014 by U.S. News and World Report.
The ULM faculty is dedicated to finding paths to furthering education. Through ULM's online program, a Marriage and Family Therapy Doctorate of Philosophy is offered as a non-clinical track and one of the first online offerings of its kind. Through our online program, eULM, ULM has added coursework for many degrees that provides non-traditional students the opportunity to pursue a post graduate degree in areas such as criminal justice, gerontology, history and educational leadership. ULM also boasts a ranking of its online education degree (M.Ed.) by the 2014 U.S. News and World Report.
Reasons for choosing to pursue a post graduate degree are many. ULM faculty and staff remain dedicated to the student as each pursues his or her own career paths.
Best wishes for a successful graduate education at ULM, and look me up on Facebook or send me an email at bruno@ulm.edu if I can be of assistance.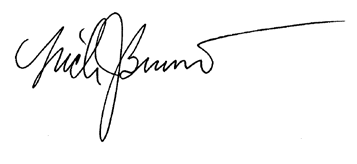 Nick J. Bruno, Ph.D.
President