Welcome to the University of Louisiana at Monroe!
Welcome to the University of Louisiana Monroe
Congratulations on choosing the University of Louisiana Monroe for your academic career. ULM will prepare you in your chosen field of study with bright, talented and caring faculty and staff. In addition, the culture of ULM, "#takeflight," will provide a positive, all-encompassing college experience that is yours for a lifetime.
In the 86 years since ULM was founded, the university has grown rapidly and continuously. Last year, U.S. News & World Report magazine named ULM one of the Best National Universities.
In 2016, ULM, one of six doctoral-granting universities in Louisiana, was recognized by Carnegie Classification of Institutions of Higher Education for its research activity. An example of this is a $1.7 million National Institutes of Health research grant to a pharmacology study on diabetes.
We continue to advance our mission and offer an excellent education, not only to the region and citizens of Louisiana, but also well beyond the state's geographic boundaries. In the fall of 2016, ULM enrollment exceeded 9,100.
ULM embraces international students eager to learn in an American university, or a community college student seeking a transfer to a four-year university – whatever the situation, we welcome you to make ULM your academic home.
On campus, students enjoy the renovated Scott Plaza, a remodeled bookstore operated in partnership with Barnes & Noble and even a Starbucks.
ULM is home to many programs that attract students from around the world, including, Atmospheric Science, Agribusiness, Toxicology, Marriage and Family Therapy, Gerontology and the only state-supported Pharmacy program. The state's premier School of Construction Management marked 50 years in 2016. As reported in 2016, ULM had the highest passage rate on the CPA exam in Louisiana.
Continually striving to serve the northeast Louisiana community as well as the students, last year ULM opened the Autism Center to work with individuals with Autism Spectrum Disorders.
The Office of Career Connections guides students in choosing the career path that is right for them through career fairs, workshops and various events on campus. Companies such as CenturyLink, St. Francis Medical Center and hospitals within its system, Vantage/Affinity Health and others partner with ULM to offer internships and job opportunities.
As demand for online learning grows, ULM meets it through eULM. Most recently, the RN to Bachelor of Science in Nursing online program ranked No. 1 in the country by CollegeStart.org. ULM's master's in history online ranked No. 4 in the nation by CollegeValuesOnline.com.
Your time at ULM will be full of study but also full of fun. ULM recognizes more than 150 student organizations ranging from professional, to Greek, to religious.
Athletics is a constant favorite among students, from Warhawks football and tailgating in The Grove to basketball in the coliseum. On the bayou, the waterski team has garnered almost 30 national championships.
Student events are the foundation of your college experience, and I encourage you to take part as often as possible.
Whatever your area of interest, we are committed to you and appreciate your demonstrated ability and determination.
I welcome you to ULM. Go Warhawks!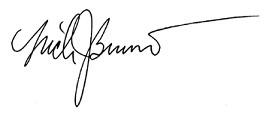 Nick J. Bruno, Ph.D.
President