Welcome to the University of Louisiana at Monroe!
Our campus - located in Monroe, Louisiana - rests alongside beautiful Bayou DeSiard. Founded in 1931, ULM is a vibrant university that serves as a major educational and cultural resource for the region. ULM offers a variety of majors that will help you meet your academic and career goals.
Talented faculty, modern facilities, and exceptional students make ULM a great place to pursue your degree. Internationally recognized faculty who mentor students in state-of-the-art laboratories and classrooms are the foundation of our academic success.
At ULM you will find many programs that are exclusive to our university. For example, ULM offers Louisiana's only atmospheric science program and the only state-funded College of Pharmacy. The College of Business Administration offers the state's only agribusiness degree, which focuses on the current future needs of the agriculture industry. ULM's Health Studies program is the only such program in the region. The clinical exercise physiology concentration, undergraduate exercise science, pre-physical therapy and exercise science programs are also unique to Louisiana.
ULM strives to provide new and innovative programs that meet the needs of the shifting job market demands. ULM recently developed several new programs in response to workforce needs. These include a Post Baccalaureate Certificate in Computer Information Systems - a field where jobs are expected to grow 26 percent by 2020, and a new B.S. in Pharmaceutical Sciences. Graduates in this field work in pharmaceutical sales and government regulatory affairs. Accounting and auditing will be among the fastest-growing occupations by 2018, according to the Louisiana Workforce Commission. To meet that need, ULM's new Post Baccalaureate Certificate in Accounting - offered by ULM's College of Business Administration - will empower professionals to benefit from these expanding fields.
Whatever your area of interest, we are committed to you and appreciate your demonstrated ability and determination. I encourage you to enjoy some of the local cultural offerings of food and the outdoors, or enjoy one of the performances provided by our School of Visual and Performing Arts - all things that continue to draw people to our region and our university.
I wish you a successful education at ULM.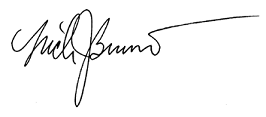 Nick J. Bruno
ULM President