Welcome to the University of Louisiana at Monroe!
Dear Warhawk Family and Friends,
I am always impressed when our students reach a level of excellence which allows them to have experiences that broaden their views and experiences.
I am exceedingly proud of our students and accomplished faculty who have expanded learning from the traditional classroom and taken it into the "real" and/or — or "virtually real" — world.
For example, Alexandra "Allie" Lee, a political science major, spent the summer of 2018 in Washington, D.C., as an intern for U.S. Senator Dr. Bill Cassidy. Vladimir Jakovljevic, also in political science, was there at the same time, interning for U.S. Congressman Dr. Ralph Abraham.
Suvash Gupta, an art major, was one of only two students in the country to receive a scholarship to study in Spain.
Dr. Joni Noble, Professor of Art, took five students to Europe for a study abroad experience. The students' exposure to the world's greatest artwork is something they will never forget.
These are only several examples of ULM students experiencing learning beyond the classroom.
If students are not traveling to study, they can soon visit in the new Virtual Reality
Laboratory on the second floor of the University Library. The Computing Center has developed a virtual reality classroom with 30 individual VR set-ups. The VR will be used for healthcare simulations, applications in media, arts and even aircraft simulations. With virtual reality, the future is here.
There are other changes, the second floor of the Library is dedicated as student study areas. There are charging stations, comfortable group seating for study sessions and collaboration. Again, ULM has responded to the learning needs of this generation by giving them space and accommodating the need to power their essential technology.
ULM Online is making an immense transformation by going from traditional, and expensive, textbooks to digital books and related materials. Known as Open Education Resources, this change is expected to save students $340,000 per year. It is another move into the digital world which will benefit the students above all else.
Finally, to see the future in real time, come to campus and see the construction of the anticipated Edward Via College of Osteopathic Medicine (VCOM). It is located on Bon Aire Drive near the Alumni Center. The area is bustling with the sights and sounds of construction and heavy machinery. They are the sights and sounds of progress and growth. At a time when few, if any, large-scale building projects are happening in Ouachita Parish, VCOM is backing its faith in ULM's strength with this $38-million plus facility.
What do all these achievements, advances and accomplishments mean? They mean the University of Louisiana Monroe continues to move forward. Every week there is something new, from the academic achievements of our faculty, to research for cures for debilitating diseases to the excitement of our athletic programs.   
The future is now at ULM and the Best is on the Bayou.
Yours truly,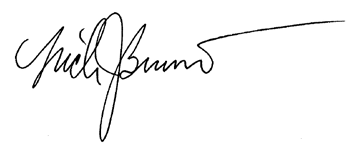 Nick J. Bruno, Ph.D.
President