Welcome to the University of Louisiana at Monroe!
Welcome to the University of Louisiana Monroe!
It is with great excitement that I welcome you to ULM to begin your academic career. During your time here, you can expect to find faculty who are experts in their fields and exceptional teachers. You will also find supportive staff willing to assist you along the way. At ULM, our philosophy is "#thebestisonthebayou," and I am confident you will experience this in every aspect of your college career and for the rest of your life.
ULM is about to celebrate its 87th year, and this past year has been full of accomplishments. For the second year in a row ULM has received the prestigious designations as a Carnegie R3 Doctoral University and a U.S. News & World Report Best National University (2017 and 2018).
In the fall of 2017, 9,290 students from all 64 Louisiana parishes, 44 states, and 49 countries attended ULM. A record number of diplomas were awarded at the 2018 spring commencement totaling 923.
ULM embraces international students eager to learn at an American university, a community college student seeking to transfer to a four-year university, or a non-traditional learner returning to complete their degree-however you make your way to us, we welcome you to make ULM your academic home.
On campus, our students enjoy a wide-variety of activities through student life, such as Homecoming, Spring Fever, and Oozeball. We have over 150 student organizations ranging from professional, to Greek, to religious. There is always something to do, so get involved!
Our students also enjoy state-of the art buildings. This year Bayou Pointe opened its doors for the first time as the new student event center. This facility includes a ballroom, theater, outdoor amphitheater, large entertainment deck, and practice area for ULM's spirit groups. Brown Stadium and Groseclose track received complete stadium and field renovations for our track and field and women's soccer teams. And once you've completed your time at ULM, you can join the Alumni Association and enjoy the brand-new Laird-Weems ULM Foundation and Alumni Affairs administrative center.
ULM has a long-standing tradition of exceptional academic programs. This year, our three academic colleges will be divided into four to better serve our faculty and students. They will be: The College of Arts, Education, and Sciences; The College of Business and Social Sciences; The College of Health Sciences; and The College of Pharmacy.
ULM continues to lead the way in healthcare curriculums in Louisiana. The Board of Regents recently approved the Doctor of Physical Therapy proposal and we are moving toward finalization. The Nursing program added two new degree programs in the Masters of Science in Nursing: Adult Gerontology Primary Nurse Practitioner and Family Nurse Practitioner. We graduate the second highest number of Health Sciences graduates in the state—most of these degrees have a 100% job placement rate.
The Accounting program has remained above or near the national passage rate on the CPA exam for the last five years. The School of Construction recently celebrated its 50th anniversary and was the first in the country to receive national accreditation. It is currently ranked 6th in the nation, while our Risk Management and Insurance program is ranked 11th. Our School of Visual and Performing Arts had over 150 events last year attracting around 34,000 people.
The Office of Career Connections guides students in choosing the career path that is right for them through career fairs, workshops, and various events on campus. Companies such as CenturyLink, St. Francis Medical Center and hospitals within its system, Vantage/Affinity Health, and others partner with ULM to offer job opportunities and internships. ULM has more students participating in internships than any other institution in the state—2,600 internships were awarded last year.
Online degree programs are growing in demand, and ULM is meeting the need. We currently offer 40 programs 100% online. The MBA program online received a designation by the U.S. News & World Report in the nation's top 100. Affordable Colleges Online ranked ULM Online as No. 1 in Louisiana.
Athletics is a constant favorite among students, from Warhawks football and tailgating in The Grove to basketball in Fant-Ewing coliseum to a warm afternoon at the baseball/softball field. On the bayou, the waterski team has garnered almost 30 national championships.
As you can see, ULM is the place to be, and we are committed to you and your experience here. It won't take long for you to #takeflight at ULM and understand why #thebestisonthebayou.
Go Warhawks!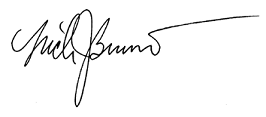 Nick J. Bruno, Ph.D.
President