Welcome to the University of Louisiana at Monroe!
Founded in 1931, ULM is an educational and cultural resource for the region, located about halfway between New Orleans and Memphis. ULM is a vibrant university situated near Bayou DeSiard, which offers 28 graduate disciplines to help you meet your academic and career goals.

Talented faculty, outstanding facilities and exceptional students make ULM a great place to pursue your advanced degree. Internationally recognized faculty who place a premium on mentoring our students and state-of-the-art laboratories where cutting-edge research is performed are the pride of our campus. Our library is among the newest in the nation, and newly constructed residence halls provide a comfortable setting for your studies while also giving you proximity to our classrooms.

You will also find some surprisingly unique graduate-level opportunities at ULM. For example, our alternative certification teacher preparation programs have received national attention and were most recently highlighted on the nationally syndicated public radio program "Marketplace."

The ULM College of Pharmacy, the only state-supported pharmacy program in Louisiana, offers a Doctor of Philosophy Degree in Pharmacy, which provides a major specialization in medicinal chemistry, pharmaceutics, pharmacognosy, pharmacology, pharmacology/toxicology, pharmacy administration and toxicology, under the tutelage of world-renowned professors.  

We also offer a Master's in Business Administration fully accredited by the Association to Advance Collegiate Schools of Business-International. This special accreditation is a distinction less than 10 percent of business schools worldwide can claim. ULM also offers an MBA program in cooperation with Shue Yan University in Hong Kong, making a solid contribution to the cultural exchange of the East and West. Our online MBA program is an excellent opportunity for professionals to further their education through a fully accredited program.

Our Marriage and Family Therapy Doctorate of Philosophy is a non-clinical track of the MFT Program and the first online offering of its kind. ULM has also recently added a Master of Science in Clinical Mental Health Counseling and a Doctor of Education in Curriculum and Instruction to its numerous online offerings. The coursework is offered through ULM's GOLD program, Gateway to OnLine Degrees, and provides non-traditional students the opportunity to pursue such degrees as a Master of Arts in Criminal Justice, a Master of Arts in Gerontology, a Master of Arts in History, and a Master of Education in Educational Leadership.

Whatever your area of interest, we are committed to you and appreciate your demonstrated ability and persistence. Graduate education is rigorous, but I encourage you to also enjoy a few quiet moments by the bayou or exploring points of historical interest. Sample our fabulous food and soak in that Southern hospitality we are known for–the kind that keeps many people coming back to the region, year after year.

Best wishes for a successful graduate education at ULM, and look me up on Facebook or send me an email at bruno@ulm.edu if I can be of assistance.
Most sincerely,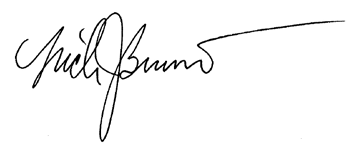 Nick J. Bruno
ULM President