Welcome to the University of Louisiana at Monroe!
Our campus is located about halfway between Shreveport and Vicksburg, alongside picturesque Bayou DeSiard. Founded in 1931, ULM is a vibrant university that serves as a major education and cultural resource for the region. More importantly to you, however; ULM offers a variety of disciplines that will help you meet your academic and career goals. I hope you find it a welcoming home as you strive to achieve these goals.
Talented faculty, outstanding facilities and exceptional students make ULM a great place to pursue your degree. Internationally recognized faculty who place a premium on mentoring our students and state-of-the-art laboratories where cutting-edge research is performed are the pride of our campus. An outstanding university and attractive residence halls provide a comfortable setting for your studies, while also giving you proximity to our classrooms.
As you would expect from any comprehensive university of quality, accounting, English, and teacher education are among the excellent programs at ULM. You will also find some programs that are unique to our university. For example, ULM offers the only undergraduate program of Toxicology in the southeastern United States, while ULM's Atmospheric Sciences Program is the only degree program of its kind in Louisiana. The College of Pharmacy and the College of Health Sciences are two premier programs, recognized across the nation for their excellence. ULM's Biology program provides our state's only freshman research program that participates in the National Genomics Research Initiative.
Whatever your area of interest, we are committed to you and appreciate your demonstrated ability and persistence. Earning a university degree will require that you apply those abilities in a persistent manner, but I also encourage you to enjoy a few quiet moments relaxing by the bayou or exploring points of historical interest. Sample our fabulous food and soak in that southern hospitality we are known for–the kind that keeps many folks coming back to the region, year after year.
Best wishes for a successful education at ULM, and please don't hesitate to connect with me on Facebook or send me an email at bruno@ulm.edu.
Most sincerely,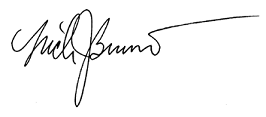 Nick J. Bruno
ULM President